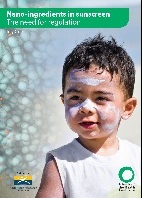 Australia has the highest rate of skin cancer in the world. Using sunscreen, along with protective clothing, a broad-brimmed hat, sunglasses and staying out of the sun in the middle of the day, is important to help reduce the risk of developing skin cancer. However, Friends of the Earth is concerned that some nano-ingredients in sunscreens may be doing more harm than good.
Document name: Nano-ingredients in sunscreen, File size: 3162kb,
Georgia Miller and Louise Sales (July 2012) .